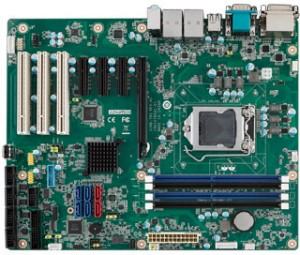 Commercialisée par Integral System, la nouvelle carte mère ATX AIMB-785 d'Advantech supporte les processeurs  Intel® Core™ i7/i5/i3/Celeron/Pentium de 6ème et 7ème générations:
Chipset pérennisé Q170.
Processeurs i7-6700/7700, i7-6700TE/7700T, i5-6500/7500, i5-6500TE/7500T, i3-6100/7101E, i3-6100TE/7101TE, G4400, G4400TE, G3900, G3900TE.
Mémoire DIMMM Dual Channel DDR4 1866/2133 jusqu'à 64Go
3 slots PCI 32-bit/33 MHz.
3 slots PCIe x 4 (Gen3) 4 GB/s par direction.
1 slot PCIe x16 (Gen3) 16 GB/s par direction.
2 x Ethernet 10/100/1000: Intel I219LM, Intel I211AT.
6 ports SATA III, RAID 0,1,5,10 sur les 4 ports Intel.
1 x VGA (Up to 1920×1200@60Hz) et 2 x DVI-D (Up to 1920×1200@60Hz).
13 ports USB.
5 ports RS232 dont 1 RS232/422/485.
1 port parallèle.
La carte mère industrielle dispose d'un chien de garde programmable entre 1 et 255 secondes. Elle est construite avec des composants électroniques autorisant un fonctionnement permanent de 0°C à 60°C. Le ventilateur du processeur est vissé sur la carte mère.
Comme toute les cartes mères industrielles Advantech, AIMB-785 utilise des composants pérennisés 7 ans par Intel (jusqu'en 2022).
Pour rappel, les cartes mères ATX industrielles Advantech actuellement sur le marché sont:
INTEGRAL SYSTEM vous conseillera et configurera votre machine en fonction de votre demande au: 04 37 69 72 00.